Trading shares has become more and more accessible in large part due to smartphone trading apps. USA Today reported that one online broker's mobile app trades grew 125 per cent in one year. Thanks to online brokers Australia residents can use smartphones to buy and sell shares. You can play the stock market or make long-term investments any time and from any place. Smartphone trading is simple and offers several advantages over other ways of buying and selling shares.
Spend Less Each Trade
One of the primary disadvantages of using a personal broker is the substantial fee they'll charge for their services. You may need to pay an annual fee in addition to a fee for each transaction. If your strategy or your broker's strategy is to buy and sell quickly, taking advantage of fluctuations in the stock market, that can add up to a lot of fees. Plus, if you use a broker, you might leave the entirety of your investment in their hands, and you may not even notice how much you're spending in fees, especially if the broker simply takes them out of your liquidated assets and reports them to you at a later date.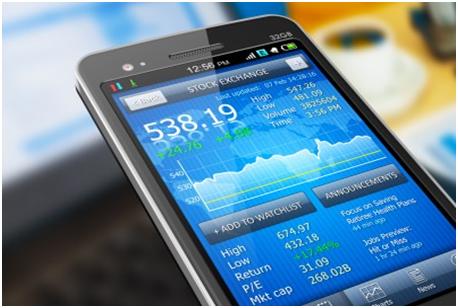 Mobile trading apps do charge fees, but they're significantly less than what the typical broker charges — often pennies on the dollar in comparison. They'll also charge less for smaller trades than they do for larger trades, allowing you to feel free to experiment if you're just starting out in the trading world.
Trade at Your Own Convenience
Smartphones make so many activities more convenient, from online shopping to watching movies on the go. Share trading is no different. Many people interested in buying and selling shares can't sit in front of a computer 24/7 to take advantage of the swings in the market. However, you probably do have time throughout the day — when you're commuting on a train or bus or during your lunch break, for example — when you could pull out your smartphone and make a quick trade if you have a mobile app.
Smartphone and iPhone share trading allows you to take the stock market with you. If you want to make a trade while on the couch in your pyjamas, all you need to do is take out your smartphone. If you want some fresh air and want to trade in the park, you won't even have to worry about Wi-FI accessibility, you need only take along your smartphone. The smartphone share trading apps make the stock market accessible to everyone.
Easy Access to Stock Information
Besides offering the convenience of being able to buy and sell shares wherever and whenever you want, smartphone share trading apps also put a professional broker at your fingertips. Apps allow you to do the following on the go:
Check the value of your current portfolio
Buy or sell shares
Access up-to-the-minute stock market information
Read the latest business news
Add money to your account
You may not even have to log into your account — or even have an account — to access basic stock market information and news. All the research you need to make smart buying and selling decisions is in your pocket, and the apps are often free to install.
Some comprehensive mobile trading apps allow you to speak with or text a professional broker at any time of the day for an additional fee. If you ever need tips from professionals who are able to spend the day watching the stock market trends, you can rely on your mobile app service to provide it for you without tying you down to a single broker who buys and sells shares for you.
Trading shares on your smartphone provides a number of benefits like saving money, the convenience of trading any time, and easy access to stock and share information. These mobile trading apps make the Australian Securities Exchange and global markets easy for anyone to navigate, even people who have never paid much attention to the stock market before.
About the Author: Carmen Moore is a contributing writer and stockbroker. She recommends mobile trade sharing apps to all of her clients looking to take a more active role in their stock market experience.