Windows 7 was considered one of the best operating systems release by Microsoft, offering various features that were particularly useful for the users. However, some of these features were forgotten in the latest version of Windows. In the next lines we will discuss what these tools are and what they could be used for in Windows 7.
Desktop Gadgets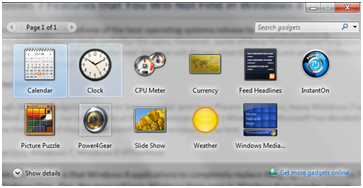 Although desktop gadgets have never been popular among software developers, many Windows 7 users liked them. In Windows 8, Microsoft has decided to remove them, even if they were present in some beta versions of the operating system. The aim of Microsoft is for Windows 8 applications to completely replace the gadgets in Windows 7 and Windows Vista.
Windows DVD Maker


Windows DVD Maker is an application that allows users to burn videos in a format that is readable by all DVD players. Although it was easy to use, it was completely removed in Windows 8. Microsoft reported that too many users experienced problems when using it and therefore decided to remove it.
The Games folder

The Folder Games proved to be a feature of Windows 7 that has not been well understood by users, even if it was useful. Although there are some people who use it regularly, there is little hope that the feature will ever make it again in a future version of the operating system.
The Start Menu
It would not be fair to say that the start menu has been removed from Windows 8. It was simply replaced by something else, with similar functionality. The main difference is that it looks different and searches are performed faster. In Windows 8, Windows Explorer was also renamed in File Explorer. It also contains the new interface that brings some useful changes in the management of file transfers.
Parental Control – Replaced by Family Safety
The Parental Controls feature in Windows 7 was too simple and did not offer too much control over the contents of a computer. However, the new Family Safety tool in Windows 8 is much better when it comes to managing your children's activities.
Backup and Restore – Replaced by File History

Backup and Restore was never a preferred way of creating backups of a system. Like many other people, Windows 8 File History brings new tool that is much more versatile and easy to use.
Windows Media Center

Windows Media Center is no longer part of Windows since the launch of the new Windows 8. However, it is still available as a product that can be purchased.
Conclusions

If you look at the list of features that have been removed, the only feature that is completely removed and was not replaced by something similar is the Desktop Gadgets tool. Even so, Windows 8 apps promise to be better and offer more dynamic, spectacular alternatives to these. Perhaps the biggest controversy among Windows users was caused by the removal of the start menu, but after all this may be just an issue of getting used to the new interface.