Running a hostel is a fun experience. You get the chance to meet a lot of different people from all over the world and learn a bit more about their cultures. However, as fun as it is, running a hostel requires constant maintenance. Apart from making sure that everything is clean and working properly, you also need to take care of your hostel's aesthetics. Sure, decorating the rooms is not particularly difficult when you first open your hostel's doors, but over time, you need to try and keep up the pace with current, everchanging trends. On the other hand, certain upgrades, especially those green ones are here to stay. So, if you want to wow your guests with your hostel rooms' decor, check out some of the following tips.
Come up with a theme
The easiest way to rid yourself of the obligation to constantly follow new trends is to come up with a certain theme for your hostel and stick to it. Do keep in mind that we're not suggesting that you should turn your hostel into an Egyptian pyramid. We're simply saying that styles like modern-vintage or modern-rustic are more or less evergreen. Your theme can even be cinematography, where you can decorate your rooms with movie posters and old movie reels.
Don't have boring walls
Next, make sure your walls are not boring and that the wall paint is not worn-out and chipping. Since painting all of the walls is a serious endeavour, the best course of action would be hiring seasoned pros to take care of this for you. For example, certain commercial painting contractors offer to pain your premises quickly and without any downtime for your business, which is always a plus. Finally, they will leave everything spotless after they're done.
Go wild with seating arrangements
Some people like to sit in big, comfortable armchairs while others prefer soft pea-bags. So, why choose? Instead, incorporate various seating solutions in your common area, so that all of your guests can find something that suits them best. Quirky pallet furniture, colourful ottomans, cosy lounges and interesting pea-bags are just some of the options. Plus, if you do it right, all of these will fit perfectly into the modern-rustic vibe we've mentioned before.
Add greenery
Potted plants are probably the only decor item that can instantly make any place feel like home. Not only are they beautiful and very versatile, but they are also a very healthy decor piece. So, add lots of greenery throughout your hostel – common areas as well as rooms – to make your guests feel at home and put their minds at ease. Just make sure you take care of them regularly, because nobody likes to see a plant slowly withering in the corner.
Boost your library
Another thing that can make you stand out from the crowd is a well-equipped library. Remember that you're not putting together your personal library, but that you are creating one for a wide audience, so make sure you get books of various genres. Local travel guides and a book about local history should also find their place on the shelves, and maybe even a local food guide.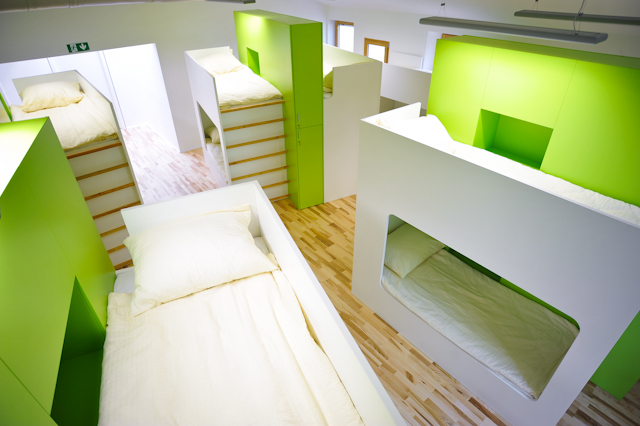 Take care of beds
Now, the bed is the place where all of your guests are starting and ending their every day. That means that you should pay special attention to it. Make sure you put a bedside table next to each bed so that your guests can have a place to leave their belongings. Next, make sure your mattresses and pillows are comfortable (memory foam probably being the best option), and change the bed sheets every 10 to 15 days. Also, while on the topic of bedsheets, you don't have to go with the typical all-white ones. Add some pop of colour to make the entire space look homier.
As you can see, with some neat tricks you can design a beautiful interior that will wow your guests and make them feel welcome and, more importantly, at home. So, don't wait another minute, but create a space your gests will love coming back to, as well as gladly recommend to their friends and family.