Road trips are a summer tradition. American as apple pie, it gives us a chance to travel and explore. But before you head out on the open highway, take a moment to download these helpful apps. They'll find you a more delicious burger, a cheaper hotel room, and plenty of memorable roadside distractions.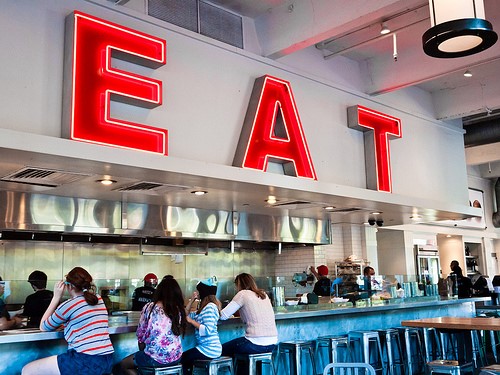 Eat Your Way Around the Country
Find your next meal on the road with Food Tripping, a handy app for the hungry traveler. It points you towards new and interesting local restaurants, micro-breweries, coffee houses, roadside diners, and healthier alternatives to fast food joints.
This app lets you experience the local culture wherever you travel instead of just pointing out the same chain restaurants in your neighborhood. Take your trip to the next level and find a great hamburger in any city on your route.
Find a Commode on the Road
Why stand in line when you can sit or squat? No matter where you go, SitOrSquat comes through in a big way during your time of need. It directs you to the best restrooms along your route, and not just highway rest areas, either.
Small toilet paper roll icons pop up on a map alerting you to prime rest stops in your area, taking the emergency out of all your bathroom stops. This app is the best way to find a commode on any American road. Don't leave home without this one!
Buddy Up For Gas Savings
GasBuddy helps you save on gas. This little genius actually displays gas prices at gas stations right on a map, making it easier to find the cheapest gas. When gas prices vary by 5 to 15 cents a gallon, every little bit makes a difference. Why pay more for the same gas? Save money at every pit stop by shaving just a few cents off of each gallon.  It's really amazing how far travel tech has come. This paired with the right auto insurance can save you a bundle when on the road.
It won't tell you which gas station has better beef jerky, or which roller grill foods are safe to eat. That's one decision you'll still have to deal with.
Find Your Waze
Waze is not just a navigation program. It collects tips from travelers who live near the destinations you will travel to, giving you an insider's perspective on sights along your route. Decide which roadside attractions to skip, and which ones to visit.
The app will also help you choose the best local diners, unique out-of-the-way restaurants, tell you which hotels to avoid, and the rest areas to pass by.
Take a Side Trip
RoadTrippers finds interesting, fun, and offbeat destinations along your route, such as the largest human-made pit in the world, (Bingham Canyon Mine) or The Buddhist Meditation Center (in Adelanto, CA). It also finds restaurants, family fun, and a bunch of the world's biggest things.
Hot Wire Hotel Room Deals
Hotwire's hotel app has big discounts on the hotels you know best. Book rooms at all the best hotels at half the regular rate in any town or city in America. This app can be a huge help when you aren't sure where your travels will take you.
No matter where you find yourself, any of these apps will help you avoid shady or dangerous places. Download all of these apps and enjoy your next road trip!: