One thing some users do not like about the home screen of Windows 8 is that it does not show the time and date, as the desktop taskbar does. Fortunately, there are several applications that solve this problem. The best apps are available for a small fee, while others are completely free and are worth considering. In the next lines we will discuss some of these applications that can be used to set up a tile showing the time and date in Windows 8.
Tile Time

Tile Time is a free tool that offers some premium options for which you must pay. It is one of the few applications that really provides a dynamic display of the date and time.
If you use the free version, you can customize the colors of the foreground and background, as well as the font size and you can also choose between a digital and analog clock. If you want to change the clock type you need to purchase the full version, as this feature is considered a premium one.
Another disadvantage is that you cannot use the standard color set of your tiles, meaning that the theme chosen for your Windows 8 Start screen may sometimes not match the color of the tile associated with this tool. This is an option that should be added in future versions.
Asparion Clock

Asparion Clock is an application that displays the time in a dynamic tile and offers some customization options.
However, working with it is a bit cumbersome. You can select from a list of predefined templates for dynamic tile and customize the data displayed in them. However, you cannot change the color of the tile. The only option is green. Except this issue, the application does its job.
Clock

Clock is another simple Windows 8 is application that displays the time in a dynamic tile. However, this tile cannot be customized in any way. If you do not like how time is displayed, then you need to look for another application.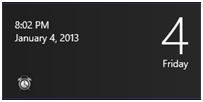 However, it has some useful features. When opened, the application displays an analog clock and a calendar. You can drop them on the screen and thus have access to the data while working on the computer. The application also includes features such as stopwatch, timer and alarm functions that can be useful sometimes.
Click Tile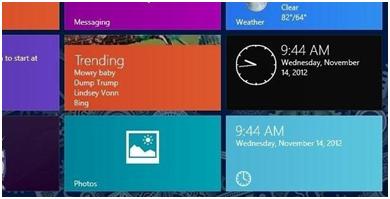 Clock Tile is a simple application that displays the time and date in a dynamic tile. However, you cannot configure anything in this application. When you open the settings you can only choose to have the same information displayed, but using a larger font. Another disadvantage is that this app does not work very well. From time to time, the display of the time ceases and there is nothing to do to restart the app.
All in all, these are just some of the free apps you can purchase from Windows 8 if you want to tweak your home screen and make it show the current date and time. There are more paid apps which generally do their job better, but these are definitely worth trying too.