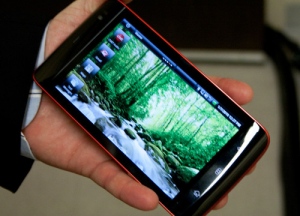 HP has finally unveiled its HP slate 500, which was in talks for quite a long time. It has, however put its users off as it is concentrating more on industrial & business purposes than the regular customers. Despite this, it has all the features which were in rumors before its release. A HP Slate 500 would cost you $799, which is pretty expensive.
Features:
Let us see, what your hard earned $799 would fetch you in the form of HP Slate. Starting with features, it has 1.86GHz Intel Atom Z540 processor, a 64GB SSD hard drive, capacity of RAM is 2 GB and a Broadcom Crystal HD chip for HD video. HP Slate 500 is a 9-inch display Windows 7 tablet, the feature which sets it apart from other versions of Windows 7 tablets is "N-Trig active digitizer". N-Trig enables the user to take notes using a digital pen on the screen, it is unique as you can have hands-on computing experience on your Windows 7 tab.
Comparison of HP Slate 500 with iPad:
When you compare HP Slate with an iPad, you will find Slate advantageous over iPad, when ports and connections are matter of concern. It has a front facing VGA camera and a rear camera of 3 Megapixels, a SD card slot, a docking connector, a USB port, HDMI output, a headphone/mic jack, and two more USB ports.
Weakness of HP Slate:
HP Slate is hitting the market without any custom software or at the maximum, with limited average Windows software. This makes it next to impossible to work with the touch interface of HP Slate, you can work comfortably with it if, it is hooked up with a keyboard and mouse set up.
HP Slate 500 has a high speed processor, provides you with multitasking facilities along with a flexible Operating System. Scope of entertainment is almost absent, but it is perfect for the business folks, with a carrying case, a docking stand and a stylus. In the future, you may have a chance to work with Android but as of now, this is all it about HP Slate 500.
Mytechgurus: is one of the most leading tech support company. Mytechgurus have more than 500,000 customers with customer bases in the USA, Canada, the UK and Australia.