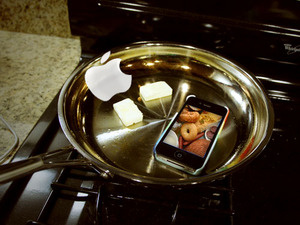 Here's short reviews of top 3 food and recipe apps.
Epicurious Recipes & Shopping List
Derived from the site epicurious.com, one of the cult sites dedicated to the kitchen, contains over 30,000 recipes and was downloaded – for free – more than 3.5 million times. Epicurious lets you save your favorite recipes and synchronize with the Recipe Box on site Epicurious.com, create a shopping list, email recipes to friends and view comments on recipes from members of the site.
Features:
– Browse through thousands of original recipes divided into several sections: sophisticated dining, quick meals, lunches or breakfasts collegiate winter.
– Try the recipe for keywords, based on what we have in the fridge, food in season or typical realizations for the holidays.
– Save your recipes in a list of preferred networks.
– Create a shopping list.
– Send recipes to friends via email, Facebook or Twitter.
– Follow the stages of preparation of the recipes step by step, with images, cooking times and other options to create your own menu.
– Check the nutritional information for thousands of recipes.
The application is universal, that is developed to be used on both iPhone and the iPad, and is made ??from Conde Nast Digital, the publisher of Wired and Vogue magazine.
Foodspotting: Community For Lovers Of Cooking And Eating Well
This is a real community on cuisine world launched in January 2010, which allows its users to share their experience in restaurants all over the world, sharing photos of dishes and delicacies are caught with the camera in your smartphone.
The goal of social networks is to create a visual guide of dishes from restaurants around the world, going to map the places where you can eat healthy.
The operation is very simple, with Foodspotting you can take a picture of a dish, type its name, specifying the restaurant and send it to the database Foodspotting that, automatically, record the exact location using GPS.
A particular application, which already has a vast archive created by its users, and through a simple consultation allows us discover places and special dishes from all over the world.
20 Min Meals: Cooking With Jamie Oliver, The Most Famous Chef Of England
An excellent application for food lovers. The most famous British chef, Jamie Oliver, reveals his tricks in app called "20 minute meals" that includes 60 delicious recipes accompanied by photographs in full screen mode and to learn step by step with easy explanations. This app also include a very functional shopping list that allows you to view the recipe ingredients, add your own ingredients and even share the list with a friend.
Features of the app:
– 60 recipes with easy steps
– Beautiful photographs with step-by-step explanations for every recipe
– 21 exclusive videos of Jamie Oliver with tips and techniques, for a total of more than 90 minutes of footage
– Voice tips in every recipe
– Ease of use with innovative interactive shopping list
– Ability to search recipes by ingredient or recipe type
– By shaking the iPhone will display a random recipe
– The quantities of ingredients are changed automatically depending on the number of guests
– Once installed, no Internet connection required to view the recipes.
– The application is in English only.
About Author:
Kashif Raza contributes to weightlossdiets4women.com. The site is an attempt to provide advice about fitness, proven diets and healthy meal solutions for women over 35. Bistro MD and DiettoGo are only a couple of the diet and weight loss reviews in the site.